Patient Testimonials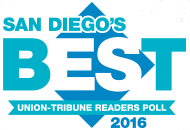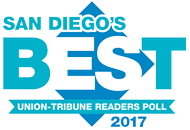 Named one of the top Implant Dentistry surgery centers in SD as voted by the readers of the UT.
---
David H.
Ever since I was a kid the dentist always hurt me and caused me a great deal of pain, so I never went back and I am now suffering for it. I went to Dr. Witcher and his staff. These guys are the BEST!! No pain, so professional, and the best of all so relaxed and comfortable. I feel like I made some real friends there. THEY ARE THE BEST!!!
Shirley
Dr. Witcher,
Thank you for a most fine experience with my exam and biopsy last week and the follow up today. You made it clear to me, you are the best at what you do, as i'm appreciative to have been recommended to you. Thank you again to both you and your team.
Noreen
Hello Dr. Witcher,
This is Noreen. I had a full wisdom teeth extraction performed by you and your surgery team last month. I just want to say thank you for performing such an excellent surgery.
That was my first time went under anesthesia, so I was incredibly nervous. However, you and your team made the surgery very relaxing. On top of that, I didn't feel much pain pasca-surgery. The wounds also healed very quickly.
Thank you for making my summer holiday even better.
Sarah
I saw Dr. Witcher in Jan 2015 at another office for a Dental implant. I had complications due to the extraction by another surgeon and was unable to get the implant and needed extensive bone graphing. Dr. Witcher did the bone graphing and was very gentle and kind! Dr. Witcher is one of those Dr's that explains everything very well and lets you know he cares. He does everything he can to make you feel comfortable in a not so comfortable procedure. He calls and checks up on you! Believe me you won't be disappointed or unsatisfied by Dr. Witcher! I hope to see him again soon to finish getting my implant!
---
Tell us your experience!
[formidable id=2]